Wastewater treatment – treating water unfit for human consumption – into an effluent that can be returned to the water cycle or reused is an essential step towards ensuring that we maximize the use of this resource. Synod Bioscience applies its globally recognized technological expertise to extract waste water's full value. We help generate reusable water using efficient solutions, by implementing water treatment technologies that not just meet stringent quality standards but also reduce ecological impact.
Treating solid waste and waste water, sewage treatment plants are of several types. Synod Bioscience is the best Commercial waste management company builds and maintains highly energy efficient and optimized plants that generate lower yield of sludge yet maximize biogas production.
1. CONVENTIONAL ASP TECHNOLOGY
Activated Sludge Process (ASP) technology is one of the commonest suspended growth process technology for treatment of municipal waste water.\
The activated sludge plant involves
Synod Bioscience designs ASP technology that is customized to suit your waste water treatment requirements depending on effluent produced.
2. SEQUENTIAL BATCH REACTOR (SBR TECHNLOGY)
An activated sludge process technology, with various treatments occurring over different time periods in a single process, the Sequential Batch Reactor (SBR) is used for different applications, as a stand-alone process or to aid anaerobic effluent treatment. Working within a specific time cycle, Synod Bioscience sets up process equipment such as pumps, mixers, aerators and decanters that can be linked to a programmable controller which can be monitored and controlled by our plant personnel on-site. 
3. MOVING BED BIO REACTOR
With the Moving Bed Bio Reactor, Synod Bioscience offers an economical solution to waste water treatment, where advanced solutions can be applied to municipal and industrial waste. This method is highly efficient, maximizes waste disposal with low energy consumption and can be used for removal of organic substances, nitrification and denitrification.
EFFLUENT TREATMENT PLANTS
Synod Bioscience offers a range of effluent treatment plant option for recycling waste water and its treatment. Our customisable solutions are developed to suit a wide variety of effluents in industries and municipalities and maintain consistency and efficiency.
Systems such as biological treatments, physio-chemical treatments, membrane separation and tertiary treatment are implemented to achieve nil-discharge standards as mandated by concerned bodies. Our economical and innovative systems for effluent treatment include organic and wet waste from municipalities, including industrial waste such as drugs, pharmaceuticals, dairy, refineries and textile effluents.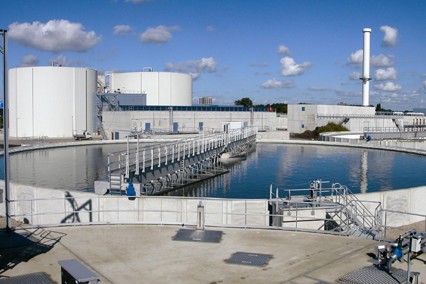 Our Effluent Treatment Plants cover the following processes
Synod Bioscience provides turnkey solutions for the design, manufacture and installation of sewage and effluent treatment plants that can be customized as per area and waste requirements. Every treatment plant fulfils varying needs and we have designed and implemented sewage treatment plants for many government organisations, industries and large establishments.