WASTE MANAGEMENT / COMMERCIAL WASTE MANAGEMENT
WASTE MANAGEMENT /cOMMERCIAL WASTE MANAGEMENT
Waste management is the need of the hour.The alarming rate at which waste is generated, coupled with incorrect disposal and almost non-existent recycling is creating a hazardous eco-system and affecting the surroundings and people's health.
Synod Bioscience is one of the best commercial waste management companies in Bangalore, India. offers 360 degree solutions in waste management, including planning, construction and implementation of waste management systems. The scientific treatment and disposal of waste is carried out using quality biogas plants which provide highest energy yield with lowest material input.
We constantly innovate and ideate to develop new technologies and work with local partners to achieve optimal plant efficiency with attractive profit margins.
Our bio-energy plants can be constructed anywhere, from independent homes, hotels, industrial spaces, to institutions, colleges and agricultural farms.
OUR PRODUCTS / WASTE TO ENERGY
Biogas and Composting Machine
synod biogas plants are avilable in the standard sizes for different waste capacity, Domestic Biogas plants are designed for individual home scale which can produce gas from domestic kitchen waste. Induvidual sizes can also be supplied where required for industries & organisation. We manufacture modular portable biogas plants in virtually all sizes.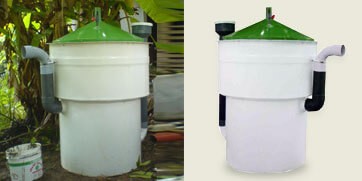 Portable Biogas Plant
Biogas is called as the energy of the future, just as waste will become tomorrow's gold. Portable Biogas Plants or digestors not just fulfil the purpose of managing a family's waste hygienically and safely, but can also address their energy requirement. In the newest generation of household biogas systems, waste can be converted into energy in hours!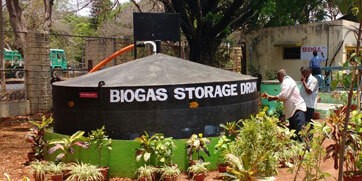 Institutional Community Biogas Plant
Biogas as an energy source on a large scale has considerable advantages, in comparison with fast depleting fossil fuels traditionally used for energy production. Because of the versatility of biogas as a low pollutant, high yielding, renewable energy source, it can be used to produce electricity, generate heat and bio-methane gas for small and large establishments.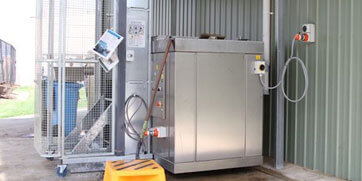 Composting Machine
Fully automatic, highly compact and effective, Synod Waste Composting Machine addresses the waste management needs of residential and commercial spaces. Built with sturdy materials, the machine uses micro-organisms to break down organic wet waste into compost in a natural and biological environment, with volume reduction of 85-90%.
Waste Collection
Waste collection, primarily the sourcing of solid, wet and dry waste is a significant part of the waste management cycle. Successful solid waste management is one that seamlessly manages the storage, collection, transport, segregation and final disposal of waste. Synod Bioscience understands the difficulty and complexity associated…
Wastewater Treatment
Waste water treatment – treating water unfit for human consumption – into an effluent that can be returned to the water cycle or reused is an essential step towards ensuring that we maximize the use of this resource.Synod Bioscience applies its globally recognized technological expertise to extract waste water's full value..
Compressed Biogas
Compressed Biogas–Generation,Purification & Bottling Bio-CNG is the purified form of biogas, without other gaseous impurities. It is very similar to natural gas in its composition and energy potential, is a renewable energy source, eco-friendly and can replace LPG and CNG easily.It is also very cost-effective to produce, making it one of the cheaper fuels.